HOW WE WORK
Industrial Coatings
M J Painting owns the most advanced equipment to brush, roll and spray coatings per manufacturer and customer specifications. Our Confined Space Certified coating crews work closely with corrosion engineers, applying numerous coatings for atmospheric and immersion protection. For corrosion prevention, we use only the oil and natural gas industry's top-rated primers and paints.
Masking and Containment:
M J Painting begins with masking and taping off all sensitive surfaces and areas. We meticulously protect all meters, tags, windows or any surface not to be blasted or coated. If applicable, ground tarps and tents are used for additional containment and environmental standards. This add-on environmental containment service eliminates airborne particles, meeting OSHA and EPA standards.
Surface Preparation
Surface preparation is imperative to ensure coating adhesiveness. From high pressure power washing to hand or power tool cleaning, wire brush or sanding, our trained crews prepare the surface according to the paint manufacturer's specifications. M J Painting also offers sand and glass alternate blasting materials.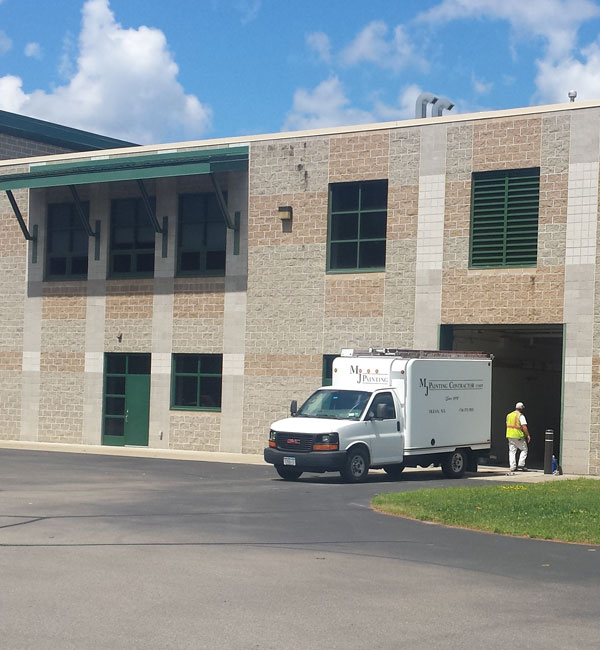 High Pressure Power Washing
High pressure power washing up to 4,000 psi removes loose paint, rust and other contaminants. This ensures a clean surface to accept new coatings.
Coatings & Painting
After surface preparation is complete, the substrate requires high performance primers to accept new corrosion resistant coatings. Once the appropriate primer has been applied, our Certified Painters/Coating Crews apply high performance, corrosion control industrial epoxies, acrylics or oil base finish paints and coatings.
Specialized Fireproofing Surface Preparation
M J Painting safety certified crews utilize fireproofing application techniques when applying fireproofing coatings to steel columns, walls and ceilings, structural steel, ducting voids and other smoke and fire prevention applications. Strict safety, property and site protection protocols mean quality results. Easy customer interface, rapid deployment and competitive pricing are all hallmarks of our great reputation.