M J Painting Contractor Corp. is committed to providing a safe and injury-free workplace.
We require all employees to adhere to established safe work practices, including but not limited to lockout/tagout, confined space entry, opening process piping/line breaking and facilities entrance control.
M J Painting is always expanding and improving our safety, health and environmental curriculum and guidelines.
New Employee Orientation
All new employees attend M J Painting Policies and Procedures Orientation. New hire orientation includes a safety knowledge review, DOT physical, personal protection equipment orientation, PPE instruction and a respiratory fit test.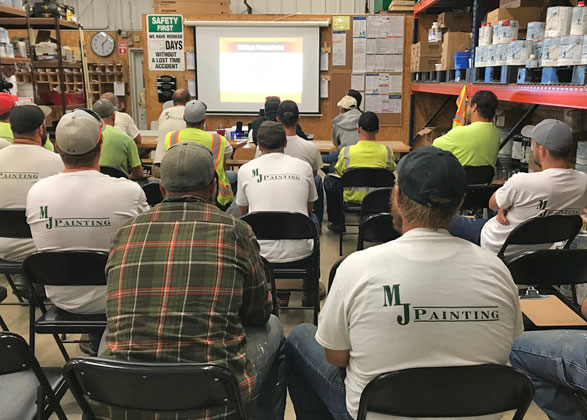 Field Safety and In-House Training
All field employees are trained in first aid, CPR, are OSHA 10-hour certified and must pass drug and alcohol testing. Drivers must also pass a DOT physical.
Prior to work, field personnel hold daily safety tailgate meetings. Safety, health and environmental precautions are analyzed and discussed on every jobsite during these mandatory meetings.
Crew leaders use Job Safety Analysis (JSA) forms to accurately cover safety, health and environmental precautions of each employee. In-house, bi-weekly safety meetings are held and include training videos, group discussions and competency testing.
Over one year, our safety meetings include these (and additional) industry specific painting and coatings safety subjects:
Abrasive Blasting
Access to Employee Medical and Exposure Records
Asbestos Abatement / Removal
Asbestos Awareness
Behavior Based Safety
Benzene Awareness
Bloodborne Pathogens
Compressed Gas Cylinders
Confined Space
Disciplinary Program
Driving Safety
Electrical Safety Awareness
Emergency Action Plan
Excavations / Trenching
Fall Protection
Fatigue Management
Fire Protection / Extinguishers
First Aide
Gas Hazards
General Waste Management
Ground Fault Protection / GFCI
Hand and/or Power Tools
Hazard Communication (HazCom)
Hydrogen Sulfide (H2S)
Incident Investigation
Job Competency
Jobsite Security
Journey Management
Ladder Safety
Lead Abatement / Removal
Lead Awareness
Lockout / Tagout
Manual Lifting
Noise Exposure / Hearing Conservation
Non-DOT Drug & Alcohol Policy
Personal Protection Equipment (PPE)
Process Safety Management / Contractor Responsibilities (PSM)
Respiratory Protection
Rigging Equipment for Material Handling
Risk Assessment
Scaffolds
Short Service Employee (SSE)
Silica Exposure Control
Spill Prevention and Response
Stop Work Authority