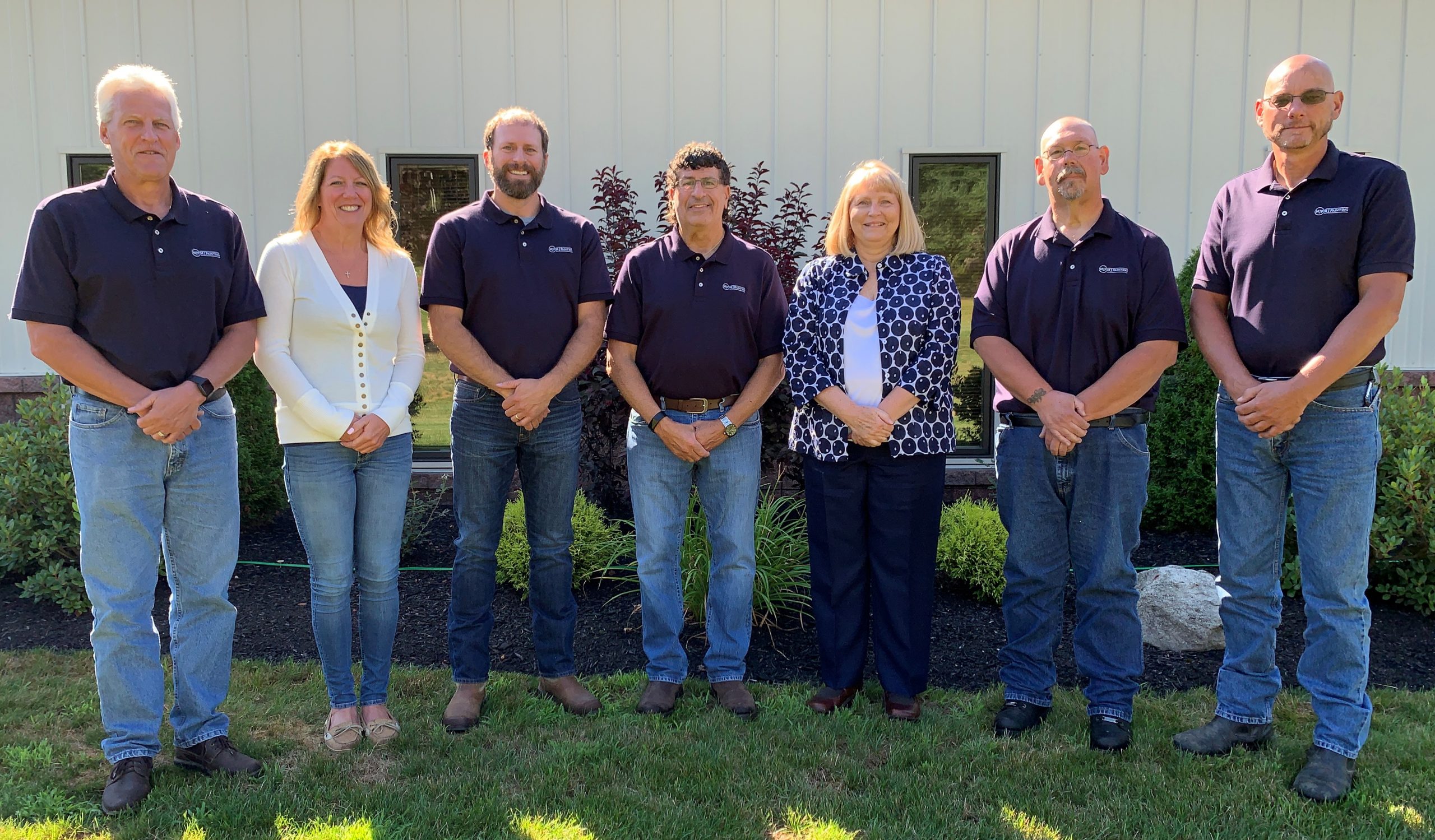 Left to Right: Pete Dandrea, Sales and Marketing Manager – Marty Chenetz, Administrative Assistant – Mike John, Jr., Vice President and Field Operations Manager – Mike John, President – Carol John, Vice President of Administration – Rick Wurster, Project Estimator – Chris Schlosser, Project Manager & Safety Coordinator
Mike John, President
Mike John began M J Painting Contractor Corp from his parents' basement in 1970, starting his career first with light commercial buildings, residential homes and churches then expanding into the heavy industrial, oil and natural gas sectors. He has since expanded the company's footprint to a national level with a full spectrum of coating services. As a turnkey painting contractor, M J Painting performs all aspects of painting, sandblasting and epoxy coatings for Commercial, Industrial, Churches, Oil and Natural Gas sectors.
With over 50 years of industry experience, Mike focuses on his top-notch team of field personnel guaranteeing M J Painting Contractor Corp's customers quality, excellence and the highest safety standards. He values accessibility and direct communication with each customer, and believes delivering consistent satisfaction leads to client relationship longevity.
"We developed a business value where trust and integrity play a prominent role in our everyday work ethic," Mike says. "Quality, customer relations and safety are the company's foundation and our continued success would not be possible without the administration and field teams we have in place."
As President he oversees the overall operations of the Commercial, Industrial, Oil and Natural Gas, Sales and Marketing, Estimating, Project Management and Accounting teams.
Mike enjoys boating and motorcycle riding, visiting family and friends on the east coast, vacationing in New York City, Washington D.C., Las Vegas and the Grand Canyon.
Christopher P. Schlosser,
Project Manager/Safety Coordinator
Chris began working with M J Painting Contractor Corp in January of 2017. He attended BOCES of New York State graduating with a specialization in drafting. Chris brings indispensable industry experience, gained through his previous position working at an oil company as a civil engineer and drafter.
As Project Manager, Chris estimates and bids projects overseeing them from start to finish. He also supervises crews, interfaces with customers and ensures that jobs remain on budget.
Chris's secondary duties include managing shop operations, equipment and the company's fleet of trucks. He credits being a motivated self-starter to all the hard work he put in while growing up on a farm. Chris enjoys motorcycling, playing billiards, hunting and camping.
Rick Wurster, Project Estimator
Rick has been working at M J Painting Contractor Corp as a Project Estimator for three years and brings with him three decades of oil, gas and petrochemical industrial experience. He graduated from Alfred University in New York with a bachelor's degree in Mechanical Drafting and from Houghton College with a bachelor's degree in Organizational Management. Before joining M J Painting, Rick worked at Dresser-Rand for more than two decades. He enjoys motorcycling and restoring antique tractors, is married and resides in the same area where he grew up.
Mike John Jr.,
Vice President and Field Operations Manager
Mike Jr. is the Vice President of M J Painting Contractor Corp and Field Operations Manager. He oversees the daily operations of the Oil & Natural Gas Division, scheduling multi crews, overseeing job production, quality and budgets. As Field Operations Manager he also oversees shop operations.
Throughout his 25 years of experience, Mike has acquired a reputation of knowledge and integrity with customers. He is certified with Sherwin Williams, Carboline, Carboline Fireproofing, Wilko Paint, Inc., Specialty Polymer Coatings, DENSO and Powercrete. Mike holds an Associate's degree in Business Administration and specializes in the technical aspects of applications and coatings.
He also works directly with the Safety Coordinator to ensure M J Painting's extensive Health, Safety and Environmental program is properly executed. His interests include boating and taking time off with his family near the beach.
Carol John, Vice President of Administration
Carol has been with the company since 1976. Carol has over 3 decades experience in human resources, sales and marketing, as well as customer service. She is responsible for making the Company compliant with multi states and government regulations. Her expertise has contributed to the growth and success of the Company.
Pete Dandrea, Sales & Marketing Manager
Pete Dandrea, Sales & Marketing Manager, has been with M J Painting Contractor Corp since 2016. He attained 40 years of marketing experience with a background in manufacturing, data processing and Information Technology. Pete arrived at M J Painting Contractor Corp just in time to launch a campaign that has attributed to the company's geographic expansion and growing customer base. In addition, he attends numerous trade shows and conferences. Pete is married and has a son and daughter. His hobbies include sports, music and especially playing golf.
Mary (Marty) Chenetz, Administrative Assistant
Marty has been with M J Painting Contractor Corp since 2006, managing accounting systems that include payroll, accounts payable, accounts receivable and job cost analysis. Marty manages a weekly deployment of 15 crews to multiple states, ensuring their trips have a smooth transition from arrival to departure, with sensible logistics at every job site. Through Marty's efforts the crews are kept accountable for accurate payroll and expense receipt submittals.