OIL AND NATURAL GAS COATING
M J Painting has over 15 years of oil and natural gas coating experience in the upstream, midstream and downstream industries.
We perform each crucial step of the oil and natural gas specific requirements for tanks and well heads to compressor stations and pipelines with corrosion prevention coating expertise. Masking, environmental containment, surface preparation, coating and final touchups can be done onsite and in-shop. M J Painting's mobile spray rigs have precision tools and equipment necessary to complete each coating project phase.
Our coating crews have the experience and knowledge to prepare any surface, apply the proper coatings and provide Quality Control Documentation. All employees are safety trained and operator qualified through Veriforce and MEA (Midwest Energy Association). We offer NACE Certified Painting crews or third party resources to perform CIP Level 1 Coating Inspections.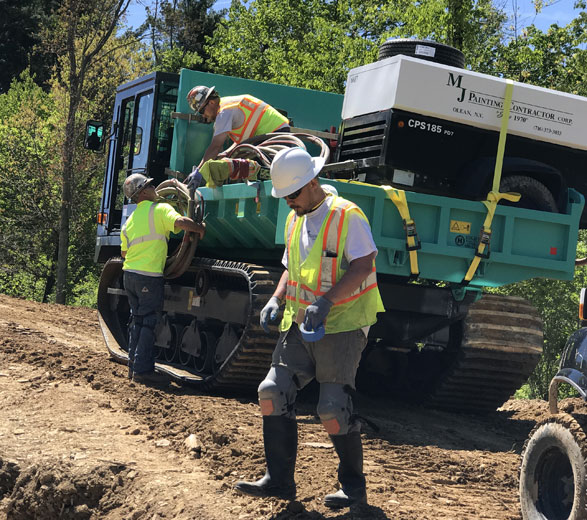 Mobile Spray Rig
M J Painting owns two customized spray rigs built to the manufacturer's recommendations. Our mobile trailers are fully equipped with onboard GRACO XP pump, generator, air compressor, dryer, spare parts and a complete work shop to allow crews to make any necessary onsite repairs. These rigs can support up to four 55-gallon drum capability allowing us to have enough product to handle any size job.
Mobile Rigs Fully Equipped:
Onboard GRACO XP pump
Generator
Air compressor
Dryer
Spare parts
Complete workshop
Four 55-gallon drums
Our Crew Trucks Are Fully Equipped:
Hand Tools/Power Tools
Air Compressors
Blast Pots/Aftercoolers/NIOSH Breathing Box
Spray equipment
Coating Inspection Equipment
Safety Equipment
Onshore Mobile Crane:
M J Painting has a mobile crane for on land material handling, loading and unloading pipe.
Spy Holiday Detection:
Holiday testing or jeeping, is a vital part of M J Painting's pipeline integrity management program.
It is required for new pipeline construction and piping recoats. Safety certified operators are trained to inspect and repair new and existing oil and natural gas pipeline protective coatings for pinholes, scratches and other coating faults.
M J Painting Contractor Corp.
CERTIFICATIONS:
CIP Level 1 Coating Inspection
SPC- 2888® Applicators
SPC- 2888® Epoxy Pipeline Coating Certified
DENSO® Certified
NACE Certified available
Confined Space Certified
BELOW GROUND COATING CERTIFICATIONS:
SPC-2888®, 3888®, 4888®, 8888®, 9888®
DENSO Protal 7200®, 7125®, 7900®, 7900® HT
Powercrete® R95
TRAINING:
Veriforce
MEA (Midwest Energy Association)
ITS (Industrial Training Services)
PEC (Petroleum Education Council)
DeFelsko testing equipment
40+ safety programs
4 gas LEL meters
CONFINED SPACE:
Silos
Pump stations
Tanks
Underground pipes
BELOW GROUND:
Girth welds
HDD
Slip bores
Air to soil transitions
Pipeline rehabilitation projects
INTERIOR/EXTERIOR:
Pipe (above ground)
Tanks
Towers
Silos
Risers
Vessels
Compressor Station
Meter Stations
Well Heads
Launchers
Receivers
Well Pad
Pipeline Coating
Linings
Pipeline Coating Integrity Repairs