HOW WE WORK
Renewables, Oil and Gas Industries
Masking and Containment:
M J Painting begins with masking and taping off all sensitive areas. We meticulously protect all meters, tags, windows or any surface not to be blasted or coated. If applicable, ground tarps and tents are used for additional containment and environmental standards. This add-on environmental containment service eliminates airborne particles, meeting OSHA and EPA standards.
Surface Preparation
Preparation of the substrate is the most critical step of the coating process. M J Painting's safety certified coating crews have blasting equipment and precision hand tools necessary to prepare the surface according to the paint manufacturer's specifications. Our trucks each have a two-man crew and come equipped with everything needed on the jobsite, including hand tools, air compressors, blast pots and SPC- 2888® applicators. Our mobile trailers are complete with tools, equipment, repair work shop, and four 55-gallon drums allowing us to have enough product to handle any size job. We provide single or multiple two-man per coating rig crews, depending on the scope of the project.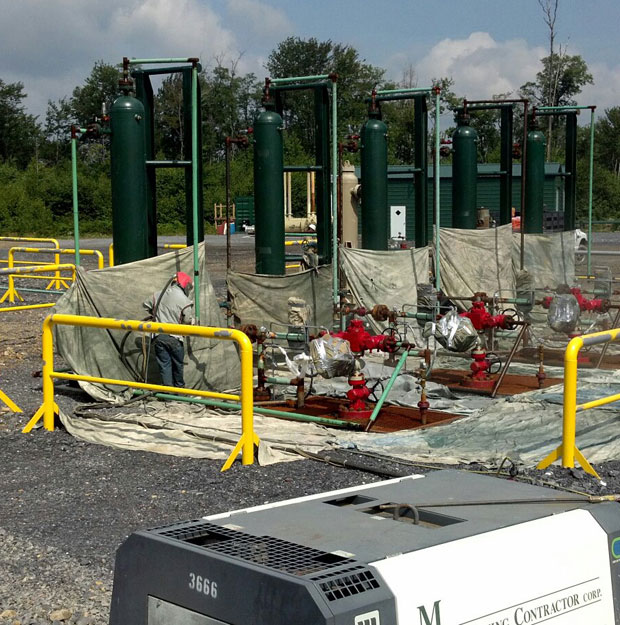 SURFACE PREPARATION SERVICES INCLUDE:
Sand and Vapor Blasting:
M J Painting offers onsite or infield abrasive sand and vapor (water) blasting for the oil and natural gas industries. M J Painting performs high pressure vapor (water) blasting in a live gas situation. Vapor blasting reduces airborne particles and the potential for an ignition source, a strong safety measure when gas is going through pipelines.
Internal Diameter Blasting and Coating:
M J Painting has the equipment capable of rotating inside pipe. Internal diameter blasting and coating is a service offered by M J Painting both in-shop and in the field.
Specialized Fireproofing Surface Preparation:
M J Painting's dually safety certified crews utilize fireproofing application techniques when applying fireproofing coatings to steel columns, walls and ceilings, structural steel, ducting voids and other smoke and fire prevention applications. Strict safety, property and site protection protocols mean quality results. Easy customer interface, rapid deployment and competitive pricing are all hallmarks of our great reputation.
Hand Tools:
Surface preparation may also require bristle brushing or other hand held sanding methods. Safety certified, our crews are equipped with these precision hand tools. Our painters have the industry experience, equipment and training necessary to prepare the surface and apply coatings all with one rig.
High Pressure Power Washing:
High pressure power washing up to 4,000 psi removes loose paint, rust and other contaminants. This ensures a clean surface to accept new coatings.
Coatings and Painting:
After surface preparation is complete, the substrate requires high performance zinc primers to accept the new corrosion resistant coatings. Once the appropriate primer has been applied, our Certified Painters/Coating Crews apply high performance, corrosion control industrial epoxies, acrylics or oil base finish paints and coatings.
M J Painting owns the most advanced equipment to brush, roll and spray coatings per manufacturer and customer specifications. Our DENSO®, SPC® (Specialty Polymer Coatings Inc.) and Confined Space Certified pipeline coating crews work closely with corrosion engineers, applying numerous coatings for atmospheric and immersion protection.
Internal diameter blasting and coating is also an M J Painting specialty service. We use only the oil and natural gas industry's top-rated primers and paints to protect both above and below ground pipeline from corrosion.
M J Painting specialty corrosion control and secondary containment coatings include low VOC, zinc primers, epoxies, gas pipeline epoxy coatings and finish paints:
SPC® (Specialty Polymer Coatings Inc.)
Sherwin Williams® macro epoxy
ControlTech™
Opti-Check™
PPG® Protective & Marine Coatings
Carboline®
Wilko Paint®
SPC-2888®
DENSO Protal 7200®
DENSO Protal® coating applicators
Powercrete®
International®
Certified Plural Component Applications:
M J Painting specializes in DENSO® and SPC® certified applications. Plural component spray application is the simultaneous spraying of two combined coatings. Ideal for new pipeline and rehab or recoating projects, M J Painting's DENSO® and SPC® Certified Painters apply a unique coating created exclusively for underground pipelines.
We have TWO mobile plural component spray rigs complete with specialized SPC® applicator equipment for dual coating process efficiency. Our safety trained crews are experienced with temperature and coating technique specific to plural component applications.
Plural Component Application is ideal for Shop Application, ARO (Directional Bores), Tanks, Containments, New Pipelines and Pipeline Rehab Projects. M J Painting's plural component services and certifications include:
Plural Component Certifications:
Certified Applicators of SPC-2888®, 4888®, 8888®, 9888®, DENSO Protal 7100®, 7125®, 7200® & 7900HT®
SPC- 2888® Epoxy Pipeline Coating Certified
SPC- 2888® Applicators
DENSO® Certified
NACE Certified
Plural Component Services & Equipment:
Mobile spray rigs
In-shop coating services
Onsite coating services
Mobile Spray Rig
M J Painting owns two customized spray rigs built to the manufacturer's recommendations. Our mobile trailers are fully equipped with onboard GRACO XP pump, generator, air compressor, dryer, spare parts and a complete work shop to allow crews to make any necessary onsite repairs. These rigs can support up to four 55-gallon drums allowing us to have enough product to handle any size job.
Mobile Rigs Fully Equipped:
Onboard GRACO XP pump
Generator
Air compressor
Dryer
Spare parts
Complete workshop
Four 55-gallon drums
Two-Man Crew Trucks Fully Equipped:
Hand Tools/Power Tools
Air Compressors
Blast Pots/ Aftercoolers / NIOSH Breathing Box
Spray Equipment
Coating Inspection Equipment
Safety Equipment
Onshore Mobile Crane:
M J Painting has a mobile crane for on land material handling, loading and unloading pipe.