Qualifications and Certifications
Working with industry associations like OOGA (Ohio Oil and Gas Association), APCA (American Pipeline Contractors Association) and APA (Appalachian Pipeliners Association) is an integral part of doing business in the oil, gas, industrial and commercial coating and painting industries.
M J Painting Contractor Corp. is a member of ISNetworld, Veriforce and MEA (Midwest Energy Association). We are involved with Pipeline Testing Consortium Programs and NACE (National Association of Corrosion Engineers) for industry training and safety programs. M J Painting is compliant in the oil and gas industry reporting and investigation process.
All our field employees are Plural Component Certified with SPC®-Specialty Polymer Coatings Inc. 2888®, brush and spray grade, 4888®, 8888® & 9888®. In addition, our employees are DENSO-Protal 7000®, 7125® & 7200® certified and we offer CIP Level 1 Coating Inspection verification.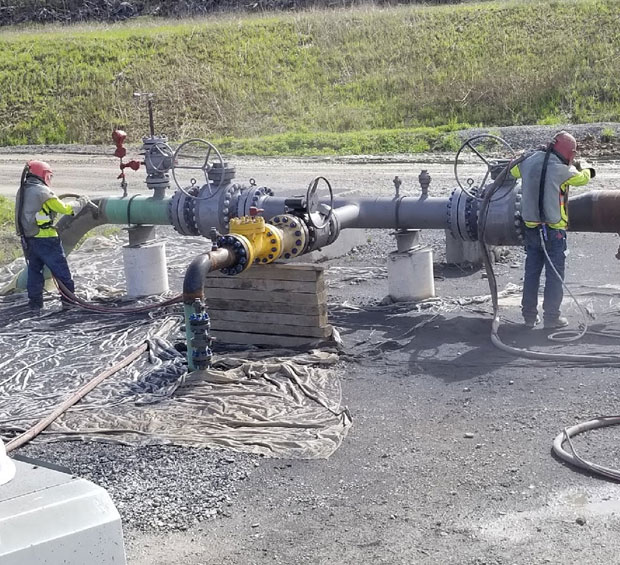 CERTIFICATIONS AND

SAFETY ASSOCIATIONS
✓ISNetworld
✓SSPC Coating Painting Inspector
✓NACE CIP Level 1 Coating Inspectors
✓KTA – Coating Inspections
✓Veriforce
✓MEA
✓Pipeline Testing Consortium
✓SPC®-Specialty Polymer Coating Certified
✓DENSO Certified
✓Plural Component Certified
✓Sandblasting and Epoxy Certified
✓ITS
✓PEC
✓OSHA