INDUSTRIAL PAINTING & COATING
M J Painting has over 50 years of industrial coating experience with refineries, power plants, oil and natural gas pipelines, parking garages and large manufacturing facilities and more.
Our crews have the training and knowledge for interior, exterior and certified confined space industrial applications. We can recommend guidelines, timetables and budget outlines and provide expertise to manage projects.
M J Painting provides scaffolding and aerial lifts, both with safety certified operators and crew. We also obtain necessary permits for site shutdown, local municipality traffic control or pedestrian diversion.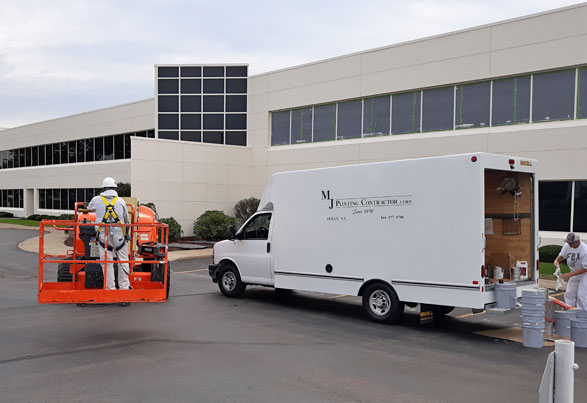 Our Industrial Customers Include, But Are Not Limited To:
✓Above Ground Pipeline Coating
✓Industrial Heat Stack Painting
✓Machinery & Equipment Painting
✓Manufacturing Facilities
✓Wind Turbine Farms
✓Petrochemical Storage & Refineries
✓Parking Garages
✓Underground Pipeline Coating
✓Power Plant Painting
✓Silo Painting
✓Structural Steel Coating
✓Tanks & Towers
✓Wind Tower Painting
✓Warehouses
✓Water & Sewage Treatment Plants
Industrial Coating Experience:
Our industrial painters prepare the surface to be free of any defects insuring a proper application of the coatings. See "How We Work" for technical details of each step of our coating process for each customer. Whether interior work, like tanks, towers or parking garages or exterior jobs like stadiums or warehouses, M J Painting has the OSHA trained crews to complete the jobs safely and efficiently.
Interior:
Tanks
Towers
Parking garages
Silos
Plants
Linings
Confined Space Certified:
Silos
Tanks
Underground pipes
Pump stations
Exterior:
Industrial heat stack coating
Machinery
Equipment painting
Manufacturing facilities
Petrochemical storage & refineries
Parking garages
Pipeline
Power plants
Silos
Structural Steel Coating
Tanks & Towers
Warehouses
Water & Sewage Treatment Plants
Mobile Spray Rig
M J Painting owns two customized spray rigs built to the manufacturer's recommendations. Our mobile trailers are fully equipped with onboard GRACO XP pump, generator, air compressor, dryer, spare parts and a complete work shop to allow crews to make any necessary onsite repairs. These rigs can support up to four 55-gallon drums allowing us to have enough product to handle any size job.
Mobile Rigs Fully Equipped:
Onboard GRACO XP pump
Generator
Air compressor
Dryer
Spare parts
Complete workshop
Four 55-gallon drums
Our Crew Trucks are Fully Equipped:
Hand Tools/Power Tools
Air Compressors
Blast Pots/ Aftercoolers / NIOSH Breathing Box
Spray Equipment
Coating Inspection Equipment
Safety Equipment
Onshore Mobile Crane:
M J Painting has a mobile crane for on land material handling, loading and unloading pipe.