TIRED OF REPAIRING A REPAIR?
LIVE Pipeline Corrosion Demo Sponsored by M J Painting Contractor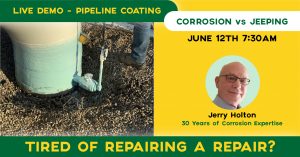 Jerry Holton, NACE CIP 3 #11385 & NACE CP 2 Certified, POE will demonstrate pipeline corrosion repair procedures on Friday, June 5 at 7:30 AM. Tired of repairing a repair, overcoating, jeeping again and again? His advice will cover, "less is more and don't overcoat". Find out how with this LIVE demo and apply best practices to your next oil and gas pipeline coating project.
Key hot pipeline coating topics to be included.
Prevent pipeline corrosion the first time.
Do it right the first time. Avoid coating mistakes that cause unnecessary repairs.
Surface preparation
Correct mixing with & without static mixer
Holiday repair
SPC-2888® application procedure
Coating abraded area
Post heat to accelerate cure
Pick Jerry's brain during the LIVE demo!
WIN a Yeti tumbler or M J Painting swag! Register and ask Jerry a question for your chance to win.
Missed our LIVE Demo?  Watch it here: https://www.youtube.com/watch?v=COgG0HR-JcU
Jerry Holton POE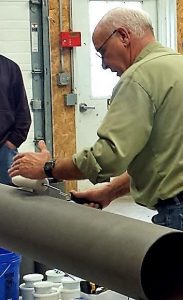 NACE CIP 3 #11385
NACE CP 2
Jerry Holton is a Petroleum Operations Engineer with 30+ years' of pipeline coating and corrosion experience. Dually, he is also an Operator and Regulator Contractor. As both Engineer and Contractor, Holton has ascertained crucial benefits of good coating systems and believes better training leads to a better infrastructure. An in-demand industry speaker and hands-on trainer, Holton's certifications include NACE CIP3, CP2 and Internal Corrosion Certification. Currently he is a Technical Sales Representative with Unconventional Solutions, Inc.